Monitor The Whole SERPs
Over 15,500 Active Users!
The Competitive Edge
Rank Tracking, Online Reputation Management, Local SEO, and Beautiful PDF Reports
( )

Monitor your SEO rankings
Increase SEO traffic by finding new opportunities

( )

Protect your brand, employees, and personal name with ORM tagging
Report your progress

( )

Get alerts when something significant happens

( )
Who SERPWoo Is For
Current Clients Who Benefit
SERPWoo Data
Behind The Scenes
130,000,000+ domains/urls monitored DAILY.
1,000,000+ keywords queries DAILY.
45,200+ scheduled reports generated DAILY.
17,500+ active users.
30+ years of SEO and ORM experience combined.
5+ years in business.
Easy To use API
(+Google Sheets)
10 programming languages sample code
Integrate in minutes
Extensive API documentation

10

programming language sample code

Google Sheets

- easy copy and paste scripts
Intuitive, easy to use
Innovative Platform
We are constantly updating and creating a richer and deeper experience for our users.
Enterprise Ready Reporting
Understanding your progress is important and we have rebuilt our reporting system from the ground up to generate beautiful PDF reports, data heavy CSV exports, and our new API allows you to take a customized look at your data.
Developed By Industry Experts
The founders have over 30+ years of combined experience in search engine optimization, online reputation management, programming, and marketing. They have generated hundreds of millions for clients, their own ventures, and partners.
Multi-language Interface
The interface has options for English or Spanish language with more translations being added.
Friendly & Responsive Support
Our team cares about your campaign and we go above and beyond the call of duty to make sure your needs are met.
Helpful Resources
We've got a library of knowledge, resources, and articles that will help take your SEO and ORM game to the next level along with newly updated videos that showcase how you can take full advantage of the power at your fingertips.
Here's What Our Customers Say
SEO: Increasing Your Traffic
Track your domains rankings easily
Monitor your competition
View ALL top 100 results for each keywords
Measure strength of URLs and domains
A great campaign starts with right keywords to create a strong & powerful foundation.
Monitor your keywords at the postal code, city, state, regional level with easy
The internet, Google, and users have switched to mobile - now you too can track at mobile results.
Online Reputation Management (ORM): Protecting Your Brand
Tag problematic URLs red (negative) in your SERPs
Benchmark and report your progress over time
Protect your brand by monitoring your SERPs for affiliates, associates, employees, competitors, and unknowns
Get organized project alerts straight to your email
Create customizable Dashboard for your campaigns to see all your important metrics quickly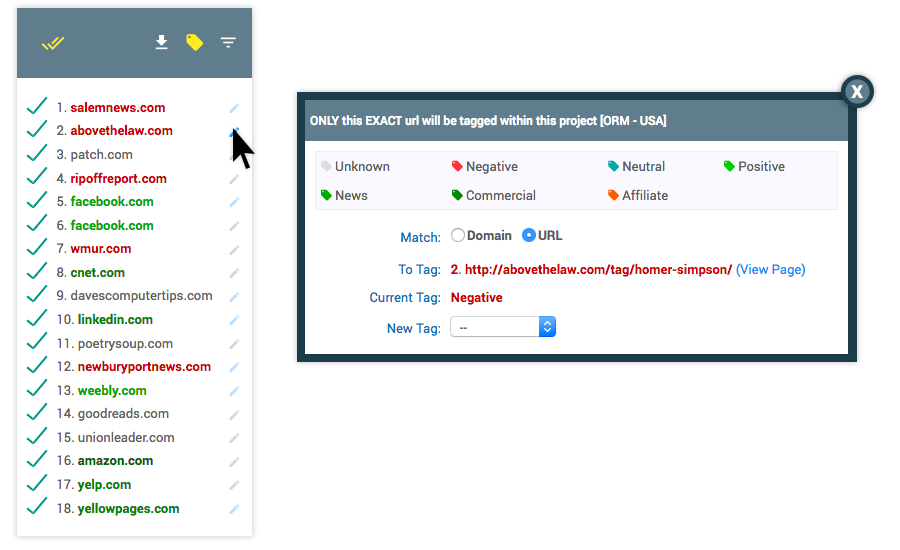 Report: Showing Your Progress
Crazy Beautiful PDFs
ORM Benchmark Reports
Individual Keyord SERP Reports
Share live dashboard
Organized and color coordinated email alerts
Friendly Responsive Support Team
We provide reliable support with a competitive edge. We pride ourselves on giving you a top-notch world class service which can only happen by listening to our customers.
Expert SEO & ORM Professionals
Within 24 hour response time (current average = 33 mins)
To get quick replies simply click on the chat icon in the bottom right corner of your interface and we'll respond as soon as humanly possible.