New Teams and Sharing Features
We are proud to introduce 2 new features within Quantum (beta): "Teams" and "Sharing".
Now you can create teams and share projects within SERPWoo.
Teams
Teams allow you to group projects together and then focus on those projects only by switching the Team Interface Filter to only show that team's projects.
The new Sharing Feature allows you to give access to employees, contract workers, or clients to a particular team or individual project.
You can create a team within the Team Panel by opening Teams from the top right corner:
then selecting "Team Panel":
Create your first team by inputted a name then select your the project you would like to add to that team:

Afterward, click the "edit" button to go into the team:
Now you can start adding additional projects to that team:
You can then use the team filter interface from earlier to select a team and the interface will only show projects from that team to you (the top search will also filter to search within only the team as well as most other panels). The user data navigation at the top will turn into an orange which indicates you are seeing only a filtered team view:
A showcase of the sidebar projects filtered by teams:
As Quantum continues to grow new features and panels will continue to incorporate the team filter.
Sharing Teams and/or Projects
With Sharing (Sub-Accounts feature) the process is as smooth as possible. You can share a team or project with users (even free) that have SERPWoo accounts OR users that do not yet.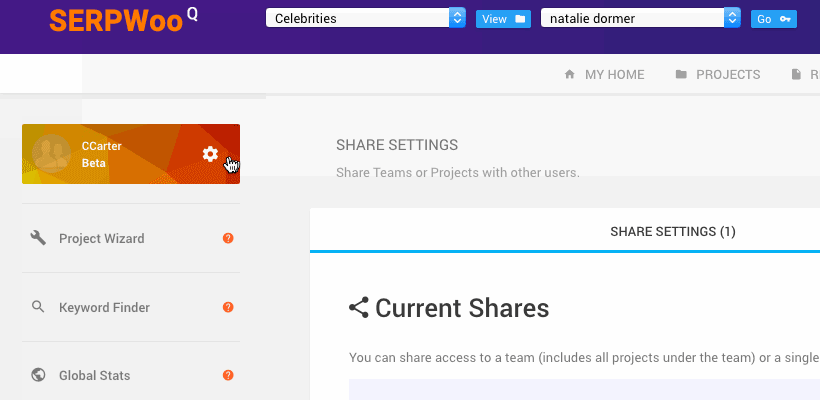 If you input an email for a user that does not have a SERPWoo account, like a new employee or client, they will be prompted to create one once they accept the invitation they get by email. Once they complete the free account creation process the team or project you shared will AUTOMATICALLY be accessible within their account.
If you input an email or username that already has a SERPWoo account their account will automatically have access to the team/project if they have auto-accept enabled (on by default).
To play around with Quantum (Beta) and the new teams and sharing feature login here: Quantum Login
As with anything let us know what you think and how we can improve upon it. I'll see you on the frontlines.
- CCarter
P.S. Quantum is almost ready to launch - so get your feedback in as soon as possible if you think we can improve upon something.
---
---
---