Published: 25th Jul 2023
Mistaken Identity Reputation Problems
So here is a situation where someone does/says something stupid in a confrontation. The person doing the confronting is being filmed!
Here is the problem - when you think you are right, regardless you tend to have more passion in the argument. But it can come across problematic when seen on film.
Now regardless of your stance on the subject, we are here looking at the online reputation problems that occur and continue to haunt people.
Whenever a new client looks them up, whenever a new potential lover/date looks up them, whenever anyone is interested in who this person is - if a confrontation gets recorded and goes viral, that will always be part of the conversation for them.
Today we are examining "Lloyd Crawford", Google that name and here is what you get:
Again, we're not here to concern ourselves on what side someone is on or not, but the first 3 results being videos of you is not a good look.
The next result, first-degree felony murder and attempted first-degree murder - that's a bit concerning!!
This is a 2 prong problem because the "Germantown" Lloyd Crawford isn't the Murderer Lloyd Crawford.
What a headache.
So like we talked about last time, a case of mistaken identity is haunting ANY Lloyd Crawford for murder, since there isn't a photo that's a problem.
Mistaken Identity
My business partner Jason Brown at one point was on the FBI's most wanted list:
Obvious that's not him, but it required Jason to start using his middle name when applying for jobs and when it comes to situations where creditability is required. That's one solution. Another is to flood the SERP results by using parasites to push down negative results.
Parasites are website domains like Reddit, Facebook, Twitter, and such which you can utilize to "take up" search results for names and brands. You want to control the first 3 pages since very few people go back further.
Sometimes to be clever, I taught people to make up 10 different people with the same name and flood the whole internet when a name is not so common. Luckily for Jason there is a Jason Brown figure skater, a professional football player, a coach, wait a minute:
This guy can't catch a break. I don't think ours is a coach though...
Actual Person
So in a situation where it's actually Lloyd Crawford, like if you google his name with his city Germantown, you get these results: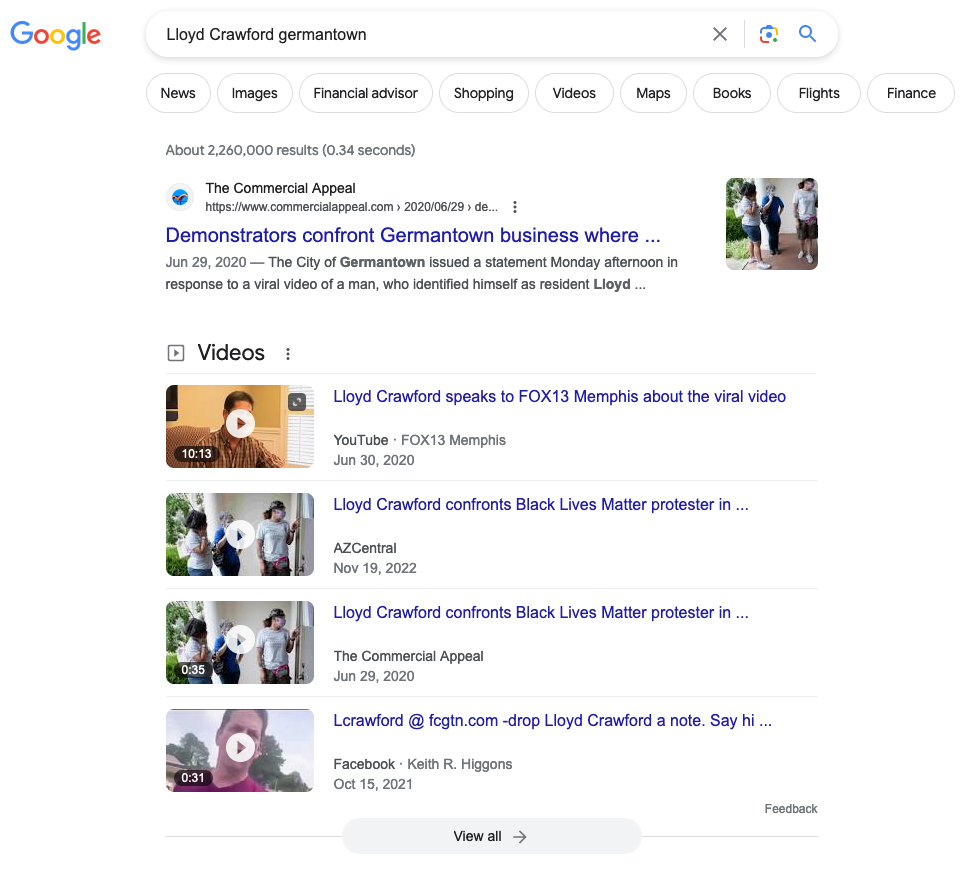 At least the very first video is him giving his side, but overall it's better off if none of this happens.
In 9/10 situations when people start filming you, it's best to say nothing and walk away. The reality is they are filming you so they can catch you doing something or saying something stupid to go viral. People are going to usually delete video of someone not speaking. All the viral posts you notice are of people talking and digging themselves deeper into a hole. But when you feel you are right, emotions take can over.
Second point: if you or someone you know is a viral sensation for the wrong reason, it's best to quickly apologize and move on, unlike Bud Light's management, waiting too long only adds fuel to the fire if you did something really stupid.
Next point: you need to clean up your search engine results. Social Media platforms like TikTok, Twitter, and others doesn't last more than 2-3 weeks, unless you become a Meme. However the search results are designed to last because they are for researching.
You can't clean up TikTok or Twitter or Instagram the way you can Google. You CAN but it requires you to get a ton of people within each platform to do videos and the logistics of it all, hmmm, I guess using influencers might work. Our friends at Intellifluence can help you guys get in touch with influencers that can be pitched.
But here at SERPWoo we concentrate on the search results.
The first thing you need to do is identify what pages are bad and what are good, that's where within SERPWoo you can monitor the SERPs, then tag the individual pages which are good and bad and neutral:
Now if you have red results like the above like Permit Patty aka Alison Ettel, you've got a lot of work ahead.
Something about selling water without a permit... too much time on peoples' hands.
Anyways, After you've identified the bad URLs you have to find URLs which are positive or neutral, and move them up the search results with SEO. This is where parasite/barnacle sites come into play to help you fill up the SERP results.
Now remember ORM consists of controlling the top 3 pages, top 10 results being the first, but top 30 is preferred. Getting a single URL to #1 position is hard enough, getting 30 - that's why ORM pays the big bucks.
Monitoring
A massive problem with a lot of this stuff is YOU DON'T KNOW if someone did something crazy that has your name until someone else tells you, hopefully not a client or future investor in your business, or romantic partner.
There are ways to monitor what's going on within the SERPs for you. At SERPWoo you can use our Monitoring Tool to monitor what's going for your name within Google, YouTube, Reddit, and Twitter. Those hit all the major viral platforms where most online mobs attack from:
With our Monitoring Tool you'll get daily emails for keywords you are monitoring, so you don't have to login constantly to see what's going on for your brands.
You can also use Google Alerts and some competitors of our like Mentions (Although I should mention we do come in at a more competitive rate than all of them).
As you can see - mistaken identity or not, your name and brand needs protection:
Proactive ORM which monitors the search results and social media like Reddit and Twitter


Reactive ORM which combating negative results when they show up.
But what about a Bud Light situation? Shooting yourself in the foot and getting hammered for 3+ month straight, with drastic drop in sales, $30 billions in loss shareholder value, and being the lighting rod for some of the most divisive topics in the country?
Tune in next time...
---
---
---
Ready to get started?
Get in touch or create an account.